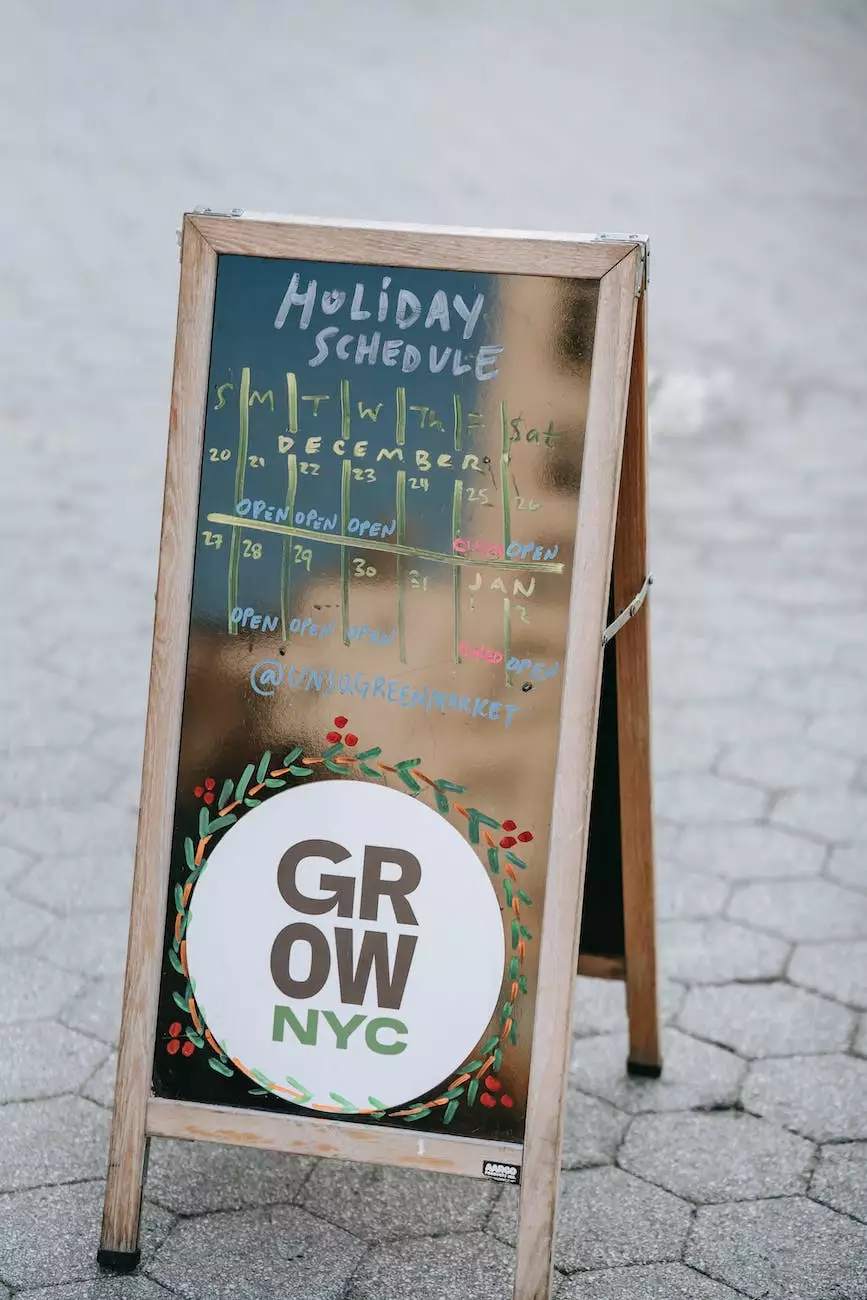 Boost Your Business with Eye-Catching Sidewalk Signs
Welcome to Key For Designs, a trusted name in the world of website development and consumer services. We specialize in providing high-quality sidewalk signs that are designed to attract attention, generate leads, and ultimately drive foot traffic to your business.
Are you looking for a cost-effective advertising solution to promote your products or services? Sidewalk signs offer an excellent opportunity to capture the interest of potential customers and create a lasting impression. They serve as your silent sales representative, working tirelessly to promote your brand even when you're not physically present.
Why Choose Our Sidewalk Signs?
At Key For Designs, we understand the importance of effective communication and the role it plays in shaping consumer behavior. Our sidewalk signs are carefully crafted to provide maximum visibility, durability, and versatility. Here's why our sidewalk signs are a great investment:
1. Durable and Weather-Resistant
Made from high-quality materials, our sidewalk signs are built to withstand various weather conditions. Whether it's rain, heat, or snow, our signs remain intact, ensuring your message is always displayed prominently.
2. Eye-Catching Design
First impressions matter, and that's why our sidewalk signs feature eye-catching designs that grab attention. We understand the importance of standing out from the crowd, and our signs are designed to do just that. Capture the interest of passersby and entice them to explore what your business has to offer.
3. Customizable for Your Brand
Here at Key For Designs, we know that every business is unique. That's why our sidewalk signs are fully customizable to match your branding and promotional needs. From color choices to logo placement, we work closely with you to create a sign that reflects and enhances your brand identity.
4. Versatile and Portable
Our sidewalk signs are not only visually appealing but also highly versatile and portable. Whether you're promoting a sale, announcing an event, or simply displaying your business hours, our signs can easily adapt to any messaging requirement. Plus, their lightweight nature makes them easy to transport and position wherever you need them.
5. Cost-Effective Advertising Solution
Unlike other forms of advertising that can be expensive and time-consuming, sidewalk signs provide a cost-effective solution to reach your target audience. With our signs, you can benefit from long-term advertising at a fraction of the cost, allowing you to allocate your budget more efficiently.
Contact Us Today to Elevate Your Brand
Ready to take your business to new heights with our eye-catching sidewalk signs? At Key For Designs, we are dedicated to delivering top-notch products and exceptional customer service. Contact our team today for a personalized consultation and let us help you elevate your brand.
With our sidewalk signs, you can effectively promote your business, increase foot traffic, and boost your overall visibility. Don't miss out on this powerful advertising tool – get in touch with Key For Designs now!
Disclaimer: The information provided in this article is for general informational purposes only. We do not claim to be experts in search engine optimization or guarantee specific search rankings.