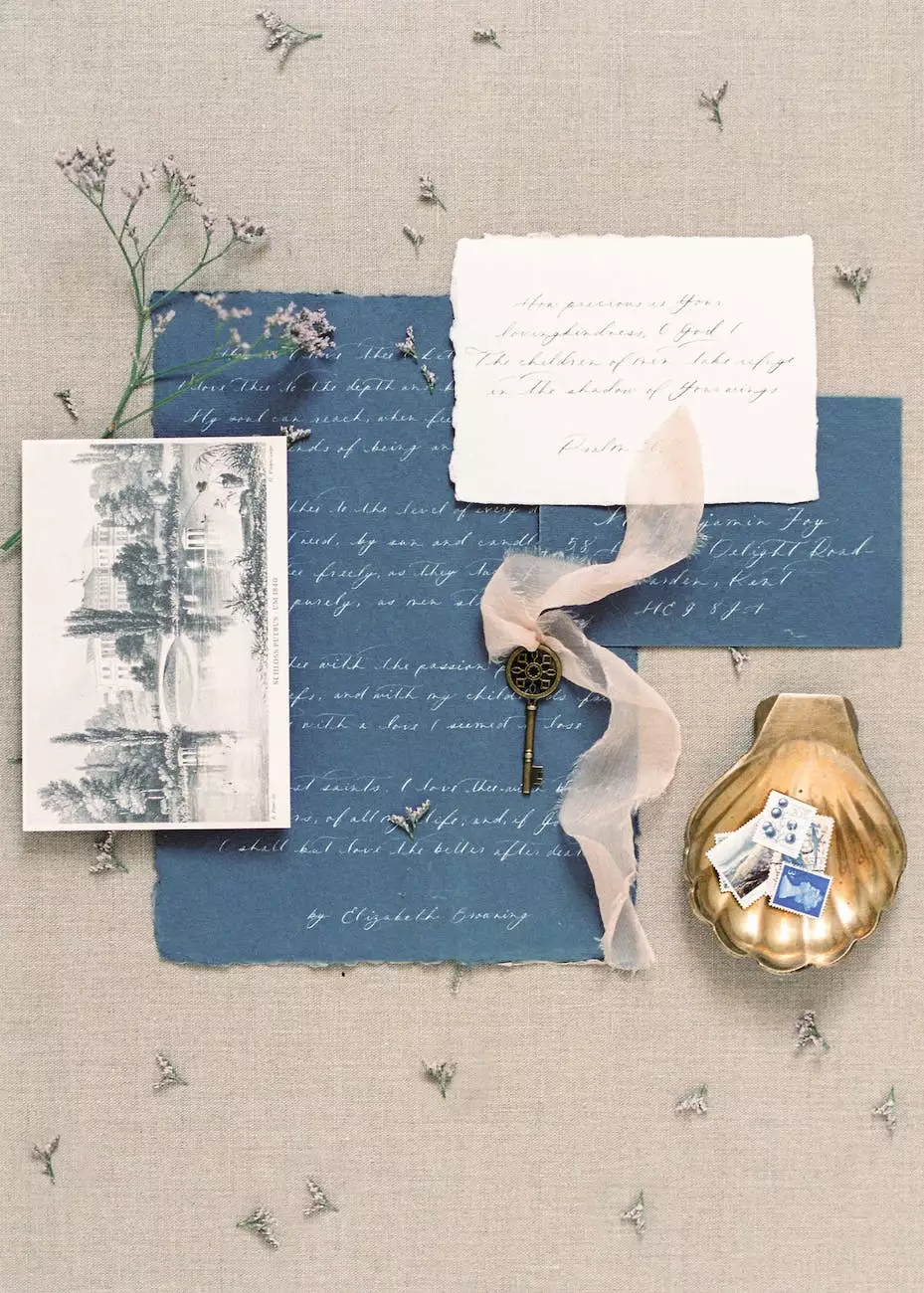 Welcome to Key For Designs, your ultimate destination for website development. In this article, we will be exploring a comprehensive glossary of invitation terms to help you better understand the world of invitation design.
1. RSVP
RSVP stands for "Répondez s'il vous plaît", which is French for "Please respond". In the context of invitations, it refers to the request for the recipient to inform the host whether they will be attending the event or not. This helps the host with planning, catering, and logistics.
2. Envelope Liner
An envelope liner is an additional piece of paper or material that is inserted into the envelope. It adds a touch of elegance and can coordinate with the overall design of the invitation. Envelope liners are often used for weddings and other formal events.
3. Thermography
Thermography is a printing technique that creates raised text on the invitation. It involves a special powder and heat source that causes the ink to rise, resulting in a textured and luxurious finish. Thermography is often used for formal and traditional invitations.
4. Foil Stamping
Foil stamping is a printing technique that uses metallic or pigmented foil to create a shiny and reflective design on the invitation. It adds a touch of elegance, sophistication, and luxury. Foil stamping is commonly used for high-end events like galas and award ceremonies.
5. Die-Cutting
Die-cutting is a process where a custom-shaped die is used to cut the invitation into a specific shape. This technique adds visual interest and can highlight unique design elements. Die-cut invitations are perfect for those looking for something truly one-of-a-kind.
6. Embossing
Embossing is a technique that creates raised or 3D designs on the invitation. It involves using heat and pressure to reshape the paper, resulting in a tactile and visually appealing effect. Embossing is often used to highlight monograms, logos, or important details.
7. Belly Band
A belly band is a strip of paper, ribbon, or fabric that wraps around the invitation suite to hold all the pieces together. It adds an extra layer of elegance and can be customized to match the overall design. Belly bands are practical and visually pleasing.
8. Letterpress
Letterpress is a traditional printing method that involves pressing inked plates onto the paper, creating a debossed effect. It results in a textured and tactile finish that exudes a sense of old-world charm and sophistication. Letterpress invitations are highly coveted for their unique aesthetic.
9. Vellum
Vellum is a translucent paper often used in invitation design. It adds a soft and ethereal quality to the invitation, allowing the underlying design elements to shine through. Vellum can be used as an overlay, an envelope wrap, or incorporated into the overall design.
10. Pocketfold
A pocketfold is a type of invitation that features a pocket or pouch to neatly hold all the invitation components. It keeps everything organized and ensures that no information is misplaced. Pocketfold invitations are popular for weddings and formal events with multiple enclosures.
Conclusion
Now that you are familiar with these key invitation terms, you have gained valuable insights into the world of invitation design. Key For Designs is your trusted partner for all your website development needs, helping you create a stunning online presence that resonates with your audience. Contact us today to discuss your requirements and take your business to new heights!